What are the Top 12 Wooden Corporate Gifts Sure to Impress?
What are the Top 12 Wooden Corporate Gifts Sure to Impress?
What are the Top 12 Wooden Corporate Gifts Sure to Impress?
I know you are looking for creative promotional items that elevate your clients brand?
Something unique, different and interesting. Maybe even something elegant, that you would be proud to show off to your clients. It doesn't have to be excessively expensive, but it needs to have that premium feel. Take a look at our Top 12 Wooden Corporate Gifts, laser engraved with your client's beautiful logo.
Promotional gifts made from real wood are perfectly on trend right now. My daughter would say they are "On Fleek". Eco friendly and sustainable, wood products minimize the "plastic" and deliver a solution for promo products that doesn't unduly damage our environment. Our customers have told us, again and again, their clients are naturally drawn to real wooden products. Maybe its the color, texture or the premium feel.
Wood products can last a lifetime, and they are the perfect choice to make a lasting impression with your brand.
So, lets ask some important questions about wood swag. Is it prohibitively expensive or cost effective? Is it useful (for an adult)? Is it memorable and does it display the brand positively? And is it a good quality?
All the wooden promo products on our list, answer those questions, "YES".
The death knell for promo items is handing them off to a child, or worse, straight into a drawer, never to be seen again. Wood is different. Wood promo products are kept, held, shown off, and treasured -- in some cases for years, not just months or weeks.
Wood promotional items are more likely to be handcrafted and have a much higher real and perceived quality. Since wooden products are different than the plastic promo options, they tend to attract attention. W
ood products are new, unique and interesting, and they are much more likely to draw real attention to your brand.
Better... laser engraving logos on wood is subtle. The brand is not screaming in four colors and this means customers are actually MORE likely to use, show and demonstrate products with your clients logo. The subtle nature of a laser engraved logo leads to a much more memorable gifting experience for your clients and their audience.
Because wood is a such a popular texture in both the home and office, your customers are much more likely to use and keep a wood promotional product in their daily life. This is the whole point of promotional products... To get your clients brand into circulation and maximize brand impressions. Wood promo products do that better than just about anything.
Another reason to consider wood promotional products is to align with your brand's corporate sustainability goals. Maybe your brand is concerned about eliminating plastic waste in the environment. Choosing a promotional item made from wood is an excellent way to tie corporate sustainability objectives into your corporate gift strategy.
No matter who you order your wooden promo items, make sure your they are sustainably sourced. The gold standard is the "FSC Certification" from the Forest Stewardship Council. This ensures your promo products are contributing to the maintenance and growth of healthy forests worldwide.
Here's the Top 12 Wooden Corporate Gifts
12. Wood Bluetooth Speaker
The newest addition to our catalog, the wood covered Bluetooth Speaker (W-A8 Model).
The WUDN Bluetooth W-A8 Speaker is small in stature, with powerful sound -- and covered in 100% real, hand-cut, wood. The latest Bluetooth V5 connectivity to wirelessly stream from any Bluetooth device (phone, laptop, tablet). High-fidelity audio components for quality sound and deep bass. 800 mAh Lithium-Ion Battery for 6-8 hours of playtime. This one is Handcrafted in Hidden Springs, Idaho, USA.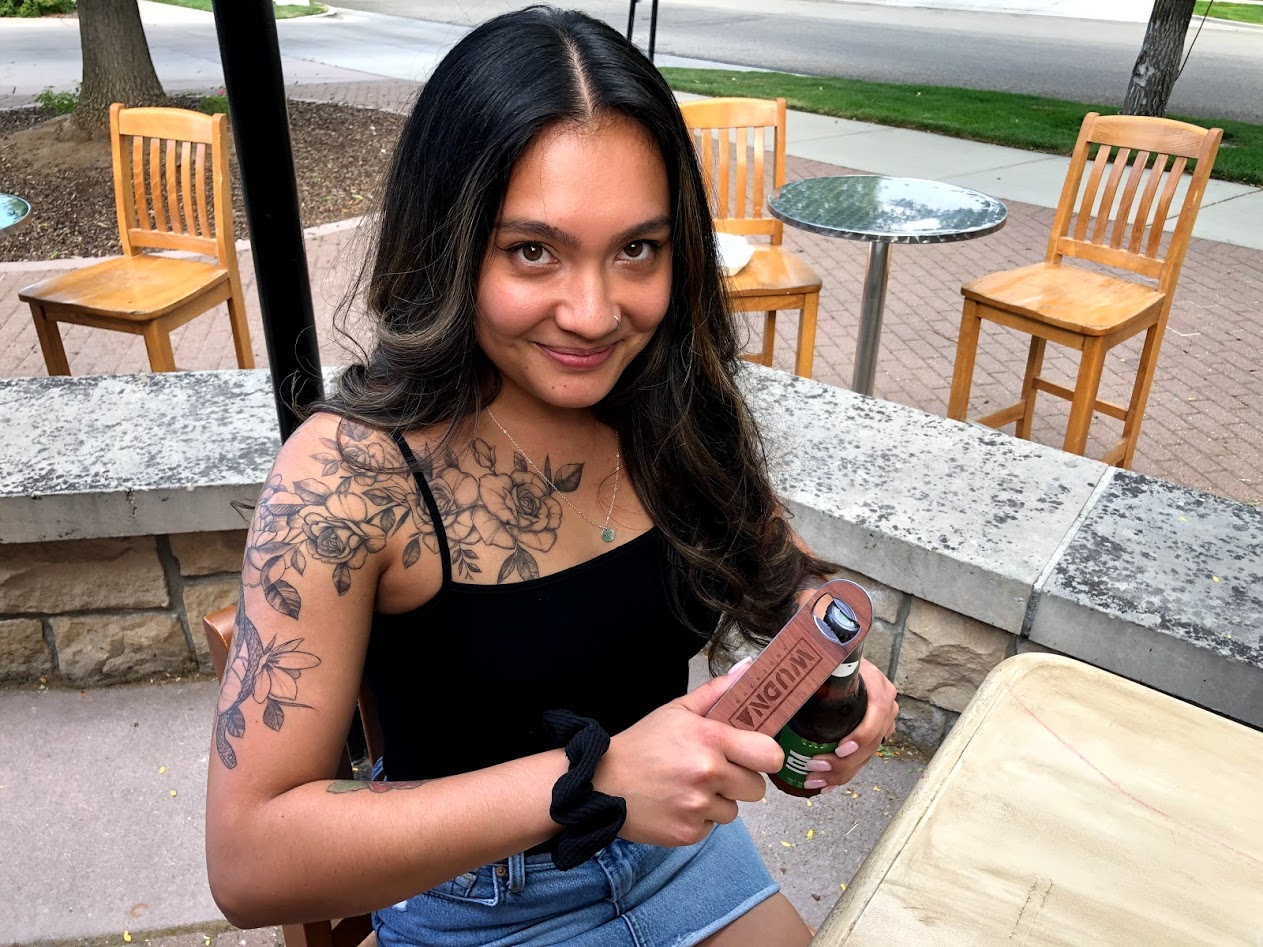 The King of bottle openers. This one is almost a pound of solid stainless-steel and then covered on both sides in real, eco-friendly, sustainable wood. These are
available
in seven different wood species or even a multi-wood inlay to make your client's brand as beautiful as possible. Laser engrave one side or both and your client will have a giveaway that makes everyone at the trade show jealous. When we take a stack of these to the tradeshow, they are gone faster than you can open a six pack of good IPA.
Wood stickers can go pretty much anywhere from water bottles, to tool boxes. Custom laser-cut your client's brand for the truly custom look and then run the grain vertical to apply them to curved surfaces like a water bottle or a hat. Vinyl stickers are a dime a dozen, but real wood will be treasured.
Yes, there are a ton of great inexpensive faux (or vinyl) woodgrain sunglasses available from overseas suppliers. But imagine the impression you would make by giving a client a pair wood sunglasses carved from a single block of wood! Or better, made completely from recycled skateboard decks. These wooden sunglasses have a a rich and durable construction that you can feel. With spring loaded hinges and polarized lenses with 100% UVA/UVB protection, these sunglasses are premium quality with a reasonable price. If your brand is hosting a special outdoor event for executives and VIPs, these real wooden frame sunglasses are our top pick for creative corporate gift!
While there are plenty of promotional notebooks with faux (I say fake) wood finishes, I am in love with these custom journals covered in REAL wood. The front and back covers are real wood, perfect for laser engraving. Each journal is completely unique in color, wood tone, and grain pattern. Your clients will be impressed by a notebook or journal made from real walnut, bamboo, mahogany, cherry or aromatic cedar. Laser engraving, or a two wood inlay, there are many ways to make your brand (or your client's brand) stand out. Custom wood notebooks are a winning choice when it comes to a creative alternative to the standard promotional notebook.
07. Wood Phone Ring Holder
Talk about new and unique. Most cell phone accessories are available by the hundreds and their all just as boring. Real wood changes the game. Check out this Wallet RNGR combining the best of a phone wallet, with the functionality of a ring phone holder. Holds 2-3 cards & some cash. Offering 360 degree rotation for a comfortable fit in your hand at any angle. And, 180 for the stand function. Made with eco-friendly leatherette & FSC Certified sustainable wood. Strong 3M adhesive. This one even works with magnetic car mounts. This is our favorite!
Everyone needs power on the go. That must be why branded powerbanks are so popular for corporate gifts and giveaway items. These powerbanks are different. Covered in real wood on both sides, your logo will be both beautiful and subtle. This is a powerbank your customers will be proud to carry and use every day. The Slim-Dual Powerbank sports to built-in cables to connect iPhones (with Lightning) and most android devices (with Micro-USB). With a 4000 mAh battery, your customers will be free to travel and power up an iPhone 8 with two full charges. I carry one of these and sometimes don't plug my phone into the wall for 3 or more days. Or, pair the powerbank with a Bluetooth speaker and enjoy 20+ hours of continuously playing music; that's a powerful combination.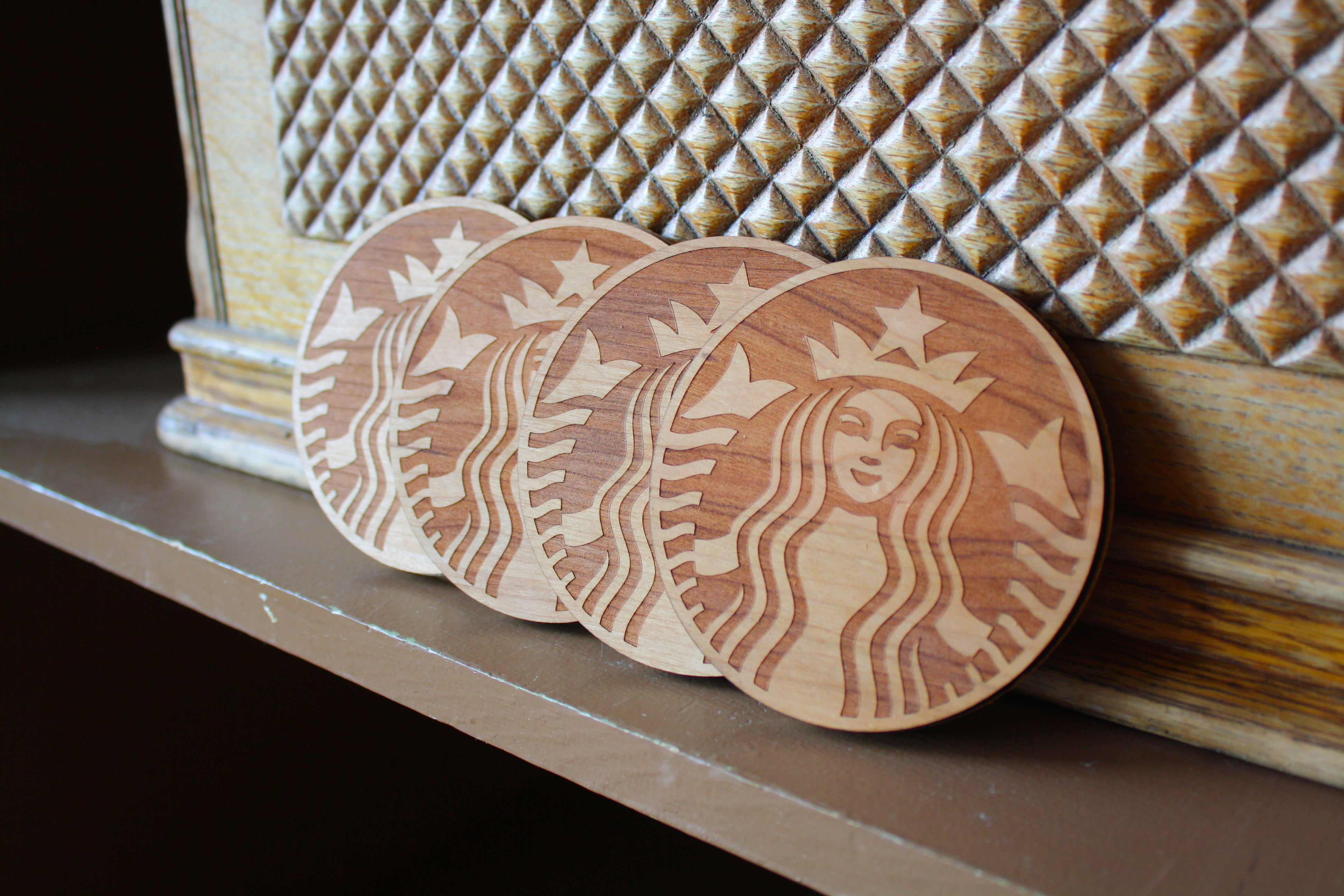 Coasters are practical and functional promotional gifts – especially for anyone who would rather not leave a water ring on their furniture. These bamboo Wooden Coasters are perfect for your your client's brand. Laser engraving, multiple wood inlay or cutout coasters make for a dramatic brand presentation. Whole coasters are available in any one of seven different wood species, these Bamboo coasters are simple, cost effective and made from the most sustainable material on earth.
Transform your clients brand or logo into a fun real wood puzzle. This one, made from 5-ply solid bamboo is lightweight, strong and portable.
Laser engraving all the way to the edges and can be cut around logo for super custom look. These are simple, fun and make your clients logo the center of attention. Other wood species are available but the solid bamboo version is our favorite. Match these with a custom stamped cotton drawstring bag for a perfect presentation.
It's a wood sticker, but designed to be something truly new and unique. A wood hat patch is held on with strong and durable 3M adhesive. As long as the hat surface isn't excessively furry, the wooden patch is staying put. More water resistant than you would think, the real wood hat patch will last years. Embroidery is cool, and leather is masculine, but wood is something new and different. This is how you attract attention and put your clients brand at the center of the universe.
02. Premium Wood Keychains
This is not your everyday keychain, it's a work of art in steel, leather and wood. This is the keychain your clients would be proud to put their brand on.
Sophisticated and elegant, the WUDN Premium Keychain is constructed from Black Nickel, Leather and Real Wood inlay on both sides, laser engraved with your icon, logo, monogram or text, the premium wood keychain by WUDN is a gift that will be treasured.
01. Real Wood Engraved Phone Cases
Some promo products are simply better at conveying a brand message than others.
Phone cases have high visibility--
Seen by the owner up to 30,000 times per year. And, phone cases will be seen by others; People literally hold the phone up in front of them while texting or talking, displaying the case for all to see.
I may not wear that shirt until tomorrow (if at all) but the phone case, I can slip on immediately and begin enjoying (and communicating a brand message) right that minute.
No batteries, no sharp edges, no warning labels, and no shipping restrictions. Phone cases are fast, safe and easy. Yes, I know everyone has a different phone, but iPhone and Samsung Galaxy cover 90%+ of the market and we'll even send you a spreadsheet of the supported phone models. That's an easy one for the company store...
---
Category:
Tags: wood promo items, wooden swag, wood corporate gifts, hot selling, new ideas, real wood, handcrafted wood products, 2020, best wood corporate gifts