5 Beautiful Wood Species (Facts & Trivia)
5 Beautiful Wood Species (Facts & Trivia)
5 Beautiful Wood Species (Facts & Trivia)
Real wood is perfect for building and engraving promotional products. Unlike plastic, wood is a sustainable resource. When properly sourced from FSC Certified Sustainable Forests (which we do, 100% of the time) wood products carry an extremely light environmental footprint. They literally grow more trees than are harvested for manufacturing. Wood sustainability is a good news story for the promo products industry which doesn't have the best track record as it applies to conserving our resources and protecting the environment.
WUDN wood promotional products are available in a variety of tree species. Our five "Standard" wood types are: American Black Walnut, Eastern Red Aromatic Cedar, Carmalized Bamboo, American Cherry and African Mahogany.
American Black Walnut
From the forests of the Eastern and Central US. American Walnut combines strength with a deep, rich brown color. The very dark color of black walnut makes for gorgeous and understated product, however, because it's so dark already, laser engravings can be difficult to see in low light. I like to call them subtle, but some would say they're just hard to read.
Eastern Red Cedar
Hand-selected from the finest cuts from Maine all the way to East Texas. Featuring an appealing array of reds, browns, and streaks of sapwood with a natural hardwood scent. This is truly "Aromatic" Cedar. You can smell the wood like you are standing ina cedar forest or the middle of a freshly built cedar closet.
Carmalized Bamboo
Sourced alongside the hills and valleys of the Southeastern seaboard, our bamboo offers a uniform pale yellow, almost white color. Combining a fine finish with strength, our bamboo is hand-selected for durability.
American Cherry
Straight from the Allegheny Plateau of Pennsylvania, New York and West Virginia. When freshly cut, American Cherry begins as a very light, apple brown color before darkening to a medium reddish brown as the wood ages.
Mahogany
Thanks to its workability, stunning beauty and exceptional durability, Mahogany has long ranked among the most prized cuts. An enduring favorite with use can be traced all the way back to the early American colonies, mahogany has a storied history of being the go-to choice for America's top craftsmen and artisans.
Solid Bamboo Ply
For specific products like the keychains and some of the signage, we also carry a 1/8th inch 5-ply solid natural bamboo product. Extremely strong and very light for it's weight, the solid bamboo ply punches way outside it's class.
Bamboos include some of the fastest-growing plants in the world, due to a unique rhizome-dependent system. Certain species of bamboo can grow 91 cm (36 in) within a 24-hour period, at a rate of almost 4 cm (1.6 in) an hour (a growth around 1 mm every 90 seconds, or 1 inch every 40 minutes).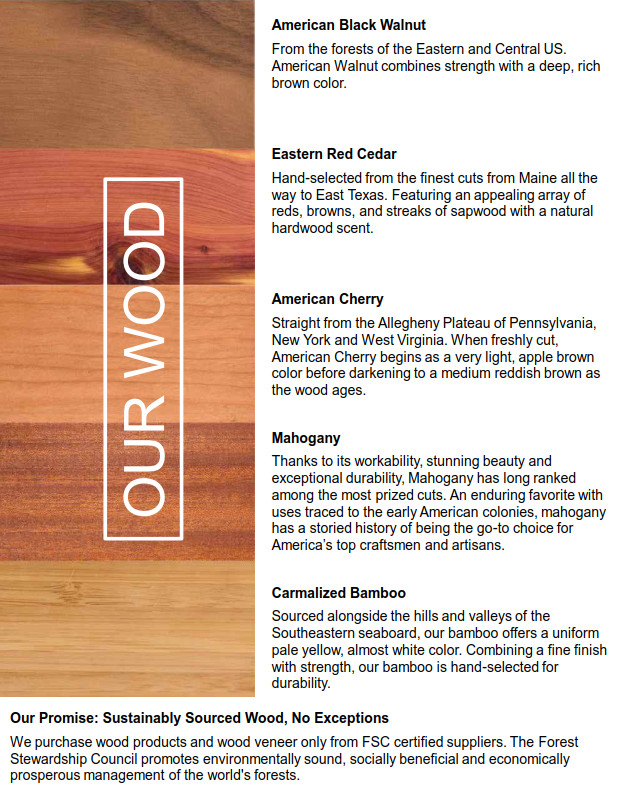 How do we treat our finished wood products
Our wood veneer is sanded and covered in one light layer of polyurethane. No additional chemicals or treatments are added. Your wood is left in (as close to) a natural state as we can.
After we laser engrave, cut and clean your wood veneer, we assemble the phone case and clean it one more time. That's it. That mean two things:
One, you have to clean it yourself occasionally. A damp cloth will usually do. Something stickier? Spray the cloth with some furniture cleaner first.
And two, your wood case will age and get better looking with time. Literally the exact opposite of plastic. They can only get scratched, dinged and damaged; and they are unlikely to look better for the wear. Wood is different: every fingerprint, coffee stain or light scratch adds character like a beautiful piece of antique furniture.
About the Author
Cameron Christian Owner, President-CEO, WUDN. After 25 Years in the corporate world, I am creating my own destiny. I bought the business so we can continue delighting our customers with real wood products that are beautiful and functional. Follow us on Instagram, tweet to @cechrist or email me at info@shopwudn.com.
---
Category:
Tags: wood, wooden, wudn, wud, mahogany, black walnut, aromatic cedar, carmalized bamboo, american cherry, veneer, laser engraving